Meet The Acupucturists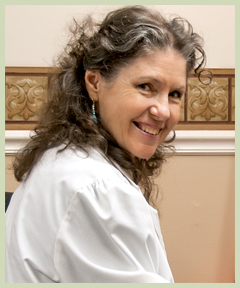 Joan helps restore whole-body health. She combines acupuncture and herbs, with compassion and humor, to create a comfortable healing environment. Together, we'll look beyond your symptoms to discover the best path to your true self.
Good acupuncture depends as much on rapport as it does on experience and know-how. For a harmonious connection between patient and practitioner offers valuable insight into a patient's dreams as well as fears.
Rapport plays a key role in boosting a person's motivation for vibrant health, and in crumbling any resistance to the changes that are required for deep healing.
---
Joan
Joan Massey is a Licensed Acupuncture Physician and Nationally Board-Certified Diplomat of Oriental Medicine and Chinese Herbs. With over 30 years of education in Western Medicine working as a Registered Medical Assistant and extended training in Chinese Herbology and the Pancreas Protocol, Joan brings together the best of east and west.
Joan also has extended training in the role of functional food therapy in the treatment and prevention of disease.
Joan's mission is to identify the root cause of disease and bring healing at a cellular level using the wisdom of ancient therapies.
Joan is a light-hearted person with a dry sense of humor, but she takes her work seriously. The most helpful thing she will do for you — beyond acupuncture — is to connect with you. The connection is to help educate you on healthy living. Her ultimate goal is to help you help yourself.
"Each person has been programmed for optimal healing potential if given the tools to help this happen." – Joan Massey
Experience and Certification:
NAACOM Board Certified in Acupuncture and Chinese Herbology
Member of SCOMA and FSOMA
Acupuncturist Without Borders
NADA Certified
---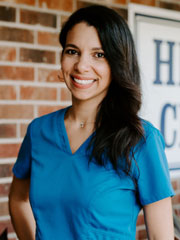 Nicole
Born in Puerto Rico to a family of doctors, Nicole has a natural inclination to help others. After finishing her undergrad in biology in her home country, she moved to the States in 2012 to study traditional Chinese medicine in Florida at East West College of Natural Medicine.
Being the lifelong learner she is, she graduated at the top of her class with a master's degree in Oriental Medicine and continued on to get certified in cold laser therapy and acupuncture point injection therapy. She is licensed in South Carolina by the SC Board of Medical Examiners and is nationally board certified in Biomedicine, Traditional Chinese Medicine, and Acupuncture.
Nicole joined our team in 2018 and we cannot be more thrilled! Her bright, yet grounded spirit simply adds to the healing you receive during treatment. She also acts as a wonderful liaison to our spanish-speaking community.
In her free time, Nicole loves to spend time in nature, curling up with a good book and playing records of her favorite music.