Contact us:
Joan Massey, Licensed Acupuncturist

(cell) 864-431-1819
(office) 864-406-3800

Please feel free to leave a message. If we're unavailable, we will return your call within one business day. We appreciate your business!
Upcoming Events: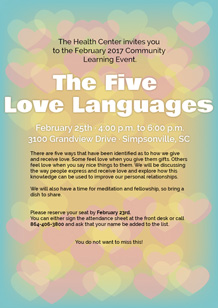 click image for more information
The Five Love Languages!
February 25th, 2017, 4:00 – 6:00 pm
Leigh Healing Center
3100 Grandview Drive, Simpsonville, SC

There are five ways that have been identified as to how we give and receive love. Some feel love when you give them gifts. Others feel love when you say nice things to them. We will be discussing the way people express and receive love and explore how this knowledge can be used to improve our personal relationships.
We will also have a time for meditation and fellowship, so bring a dish to share.
Please reserve your seat by February 23rd. You can either sign the attendance sheet at the front desk or call 864-406-3800 and ask that your name be added to the list.
You do not want to miss this!
News:
We are pleased to announce that Acupuncturist Hope Dennis, L.Ac will be here for community style acupuncture. Please see her schedule below.
Hours Of Operation:
Monday: Closed
Tuesday:
12 to 5 pm
Community style acupuncture
Wednesday:
Private sessions, by appointment only
Thursday:
12 to 5 pm
Community style acupuncture
Friday:
Private sessions, by appointment only
Saturdays:
8:30 to 2 pm
Community style acupuncture
Sunday: Closed

Meet Joan Massey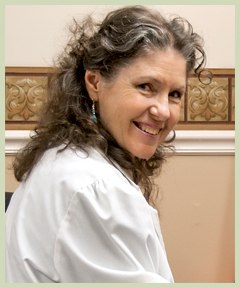 Joan helps restore whole-body health. She combines acupuncture and herbs, with compassion and humor, to create a comfortable healing environment. Together, we'll look beyond your symptoms to discover the best path to your true self.
Good acupuncture depends as much on rapport as it does on experience and know-how. For a harmonious connection between patient and practitioner offers valuable insight into a patient's dreams as well as fears.
Rapport plays a key role in boosting a person's motivation for vibrant health, and in crumbling any resistance to the changes that are required for deep healing.

About Joan

Joan Massey is a Licensed Acupuncture Physician and Nationally Board-Certified Diplomat of Oriental Medicine and Chinese Herbs. With over 30 years of education in Western Medicine working as a Registered Medical Assistant and extended training in Chinese Herbology and the Pancreas Protocol, Joan brings together the best of east and west.

Joan also has extended training in the role of functional food therapy in the treatment and prevention of disease.

Joan's mission is to identify the root cause of disease and bring healing at a cellular level using the wisdom of ancient therapies.

Joan is a light-hearted person with a dry sense of humor, but she takes her work seriously. The most helpful thing she will do for you --- beyond acupuncture --- is connect with you. The connection is to help educate you on healthy living. Her ultimate goal is to help you help yourself.

"Each person has been programmed for optimal healing potential, if given the tools to help this happen." - Joan Massey
Experience and Certification:
NAACOM Board Certified in Acupuncture and Chinese Herbology
Member of SCOMA and FSOMA
Acupuncturist Without Boarders
NADA Certified